What is Cisco Certification?
With computers such a large part of both our personal and professional lives, being knowledgeable of computers is almost a must. However, just being computer-savvy isn't enough if you're interested in this career field. Obtaining certifications, such as Cisco certification, can make a big difference in your level of knowledge and your career opportunities. Read below to learn more about the various Cisco certifications and how they can help.
Overview of Cisco Certifications
Many people use the terms Cisco certificate and Cisco certification interchangeably, but they are two very different things. If you complete a Cisco course, you'll probably get a certificate of completion, but you're not certified. To earn Cisco certification, you must complete the respective Cisco training AND pass a certification exam. Another difference is that you'll always have your certificate, but Cisco certifications only last from 2 to 5 years, depending on the certification.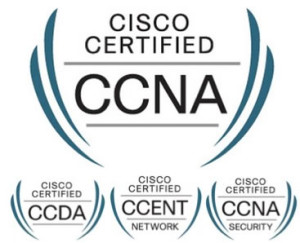 To maintain your certification, you'll need to either take a recertification exam or advance to the next level of certification. Cisco certification is one of the most highly recognized and respected certifications in the IT industry. It's an acknowledgement showing your knowledgeable of computers and/or computer networking. Cisco certification also demonstrates that you've attained a certain level of training in that specific area.
How Many Cisco Certifications Are There?
Cisco offers many types of Cisco certifications. Cisco certifications are broken down into five levels and each level offers several certifications, as listed below.
1. Entry – Cisco Certified Entry Networking Technician (CCENT); Cisco Certified Technician (CCT)
2. Associate – Cisco Certified Network Associate (CCNA); Cisco Certified Design Associate (CCDA)
3. Professional – Cisco Certified Design Professional (CCDP); Cisco Certified Network Professional (CCNP)
4. Expert – Cisco Certified Design Expert (CCDE); Cisco Certified Internetwork Expert (CCIE)
5. Architect – Cisco Certified Architect (CCA)
The levels are determined by your skill level and the years of networking experience you have. After one level is completed, you can study and advance to the next level. Many of the Cisco certifications act as prerequisites for other ones. In addition to the various levels, Cisco certifications also cover the following technology tracks. Each certification level offers the opportunity to become certified in several of the technology tracks, which may include the following:
Routing and Switching
Design
Security
Video
Voice
Data Center
Wireless
Service Provider
Service Provider Operations
Collaboration
For instance, an individual starting his or her career in networking may obtain the entry level certifications, which include the CCENT and CCT certifications. The CCT certification offers the Data Center; Routing and Switching; and TelePresence tracks. Or, an individual obtaining the CCNA certification can be pursue the routing and switching, data center, security, service provider, service provider operations, wireless, video and voice.
Who Should Consider Cisco Certifications?
Cisco certifications are typically aimed at individuals who are interested in careers in computer networking, which may include network systems administrator, network analyst, network systems engineer, network service technician and network/information systems manager, among others. With the computer networking such a huge part of the business world, just having a degree is often not enough to be competitive in the workplace. Employers prefer certification; in fact, many require their computer networking professionals obtain certification.
As stated above, you can start at the entry level and advance through more sophisticated certifications as you complete advanced training and gain more experience. The CCNA is usually for people with 0-2 years of experience, while the professional-level CCNP is chosen by those with 2-5 years experience and the expert-level CCIE certification is for those with at least five years of network engineering work experience.
What Will The Candidates Learn?
Obtaining Cisco certifications requires completion of Cisco training in the respective areas. The CCNA training provides students with the knowledge of computer networking and internetworking. They learn to configure, install, maintain and troubleshoot both routed and switched networks.
CCNA Exam 200-120: How to copy Cisco IOS from TFTP to Flash Memory
IT Track video demonstrating how to copy an IOS image file from a TFTP server to the flash memory on your router or switch. Thanks for watching!
The CCDA training prepares students to design security, voice, data center and wireless networks. Students with CCDP certification are qualified to design and implement advanced multi-layers switched enterprise architecture, including wireless domains, virtual private networking and large network components.
The CCNP, which offers several tracks, is for network professionals who want to work on advanced and complex network solutions, implementing and troubleshooting both LAN and WAN. The CCIE certification is known worldwide as the most prestigious and impressive networking certification in the industry and is used by networking experts who work with extremely complex network collaborations. Individuals are expected to have 3-5 years experience before attempting to obtain this certification. While many of the certifications do not have prerequisite courses, many require other certifications first.
What Are The Benefits?
The benefits of obtaining and maintaining Cisco certification are almost endless. Cisco certifications signify not only knowledge and expertise in the IT industry but also demonstrate a commitment to this field. Unlike some other certifications in this field, Cisco will not only boost your career development, but will give you in depth knowledge and expertise.
Computer networking professionals with multiple Cisco certifications generally have excellent career opportunities with good wage potentials. The U.S. Bureau of Labor Statistics predicted an employment growth of up to 12% for network and computer systems administrators through 2022.
According to a 2014 report by PayScale.com, the average wages for computer and networking professionals with CCNA certification range from $50,000 to almost $100,000 or more. Network administrators were earning about $57,241, while network engineers were earning $66,440. Senior network engineers earned an average of more than $91,000, and Information Technology Directors earned more than $89,000. Wages for these professionals vary by location, level of training and demographics. The number and type of certifications obtained by the individual definitely plays a role in career opportunities available.